THE INDUCTEES

6TH CLASS-2018 INDUCTEES


5TH CLASS-2017 INDUCTEES


4TH CLASS-2015 INDUCTEES


3RD CLASS-2014 INDUCTEES


2ND CLASS-2013 INDUCTEES


1ST CLASS-2012 INDUCTEES


INDUCTION DINNER INFO


ABOUT THE HALL

MISSION STATEMENT


NOMINATION FORM (PDF)


NOMINATION INFO & FAQS


BOARD OF DIRECTORS


SPONSORSHIP OPPORTUNITIES


VSHOF on FACEBOOK


CONTACT US


HOME PAGE


RELATED LINKS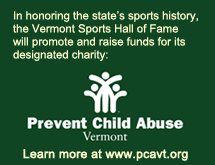 VERMONT SPORTS HALL OF FAME
Bobby Mitchell
Bridport/University of Vermont
Football
Inducted 2018
Perhaps the best Catamounts running back of all-time, Bobby Mitchell also can be considered one school's most accomplished players in the 75-plus year history of UVM football receiving All-American and all-region honors in the late 1960s.
As a junior in 1966, Mitchell and the Catamounts took the region by storm, causing more excitement on the UVM campus than any team ever before with sellout (10,000+) or close to capacity crowds at Centennial Field. That season he led the nation in several rushing categories shattering eight program, New England and national rushing and total offense records, leading the country in several categories. Mitchell set the following records at Vermont: most points, 78 (New England record); total rushing yardage, 1,207 (New England record); rushing attempts, 249; total offense, 1,207; touchdowns, 13; carries per game, 31.1 (New England record and NCAA record); Single game rushing yardage, 205; Single game rushing attempts, 47 (NCAA record); and yards averaged per game, 151.0 (NCAA leader).
That year Mitchell received a bushel of accolades from many organizations. He was an Associated Press Little All-American, first team ECAC All-East (Division II); Outstanding Small College Halfback in New England as selected by the New England Football Coaches Association; Vermont Athlete of the Year as selected by the Vermont Sportswriters and Sportscasters Association; All-New England, as named by AP, UPI, the Boston Globe and the Boston Herald-Traveler.
Despite a mid-season injury, Mitchell had another great year as a senior in 1967 rushing for 867 yards and reaching the end zone six times. His 256 carries as a senior set a new school and New England single season record. Mitchell repeated on the All-Yankee Conference First Team, the ECAC Division II All-East Team and several All-New England Teams (AP, Boston Herald-Traveler, UPI). He finished his career with a then-New England record 2,234 rushing yards and graduated as the UVM all-time leader in touchdowns (23), points scored (138) and rushing attempts (557).
In 1999, Mitchell was named to Sports Illustrated's Top 50 Greatest Sports Figures from Vermont for the 20th Century (1900-2000). He ranked 19th among the Top 50 Vermonters.