THE INDUCTEES

6TH CLASS-2018 INDUCTEES


5TH CLASS-2017 INDUCTEES


4TH CLASS-2015 INDUCTEES


3RD CLASS-2014 INDUCTEES


2ND CLASS-2013 INDUCTEES


1ST CLASS-2012 INDUCTEES


INDUCTION DINNER INFO


ABOUT THE HALL

MISSION STATEMENT


NOMINATION FORM (PDF)


NOMINATION INFO & FAQS


BOARD OF DIRECTORS


SPONSORSHIP OPPORTUNITIES


VSHOF on FACEBOOK


CONTACT US


HOME PAGE


RELATED LINKS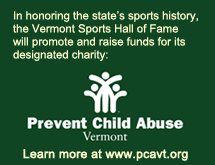 VERMONT SPORTS HALL OF FAME
David Morse
Waterbury/Hardwick
Media-Sportswriter
Inducted 2018
Mal Boright Media Inductee
Longtime Vermont journalist Dave Morse was a walking encyclopedia for Vermont Sports. As an award-winning writer, columnist and photographer, Morse chronicled Vermont sports for much of his life, telling stories from the fields, rinks, track and gyms throughout the state. Wherever sports discussions began, Morse had enormous recall of athletes, plays and games. He often returned to his office with tips and story leads scrawled on napkins.
The Waterbury native began his career early while in Waterbury High School, where principal Dascomb Rowe suggested he help the school's sports teams. A self-professed non-athlete, Morse loved sports and enjoyed being around teams, keeping statistics and providing results of games to local media, including WDEV, the Times-Argus and the Burlington Free Press. Legendary sportscaster and VSHOF inductee Ken Squier hired Morse as a copywriter at WDEV and Morse assisted on radio broadcasts on high school games, Vermont Golden Gloves and other events.
Morse joined the Barre-Montpelier Times Argus, then became sports editor of the Springfield Times Reporter before joining the Times-Argus' sister paper, the Rutland Herald, as sports editor in 1966, covering over 30 schools with a staff of three. While at the Herald, he hosted the annual meeting to select the all-state football team. He was also a founding member of the Vermont Sportscasters and Sportswriter Association and the National Sportscasters and Sportswriter Association named him the Vermont Sportswriter of the Year in 1968.
After leaving the Herald in 1974, Morse worked in New York until he returned to Vermont to revive his sportswriting career. He joined the Hardwick Gazette, nominally in a part-time position that failed to curtail his hours and effort as he covered all-things sports for four high schools plus other athletic events. He often traveled anywhere necessary in Vermont to give his readers a local angle. His Gazette column, Morse Code, was a must-read chocked full of facts, fun and personalities.
The Vermont Principals Association named Morse to its inaugural Hall of Fame Class in 2003. The New England Press Association inducted Morse in 2006 and Norwich University held a Dave Morse Day as part of its media day in 2002. The Vermont Basketball Coaches Association presented him with its media award in 2003 and in 2014 he was honored by Hazen Union High with 'Dave Morse Night' for his 20 years of service in Hardwick. He was named to the Harwood Union Hall of Fame in 2016.
A passionate baseball fan and historian, he was a fixture at Montpelier's Rec Field when the Vermont Mountaineers of the NECBL came to the state. The Mountaineers honored him for his work in 2015. He often served as the official scorer at the American Legion baseball tournament and other events.
Dave Morse passed away in 2015 at the age of 77.