THE INDUCTEES

6TH CLASS-2018 INDUCTEES


5TH CLASS-2017 INDUCTEES


4TH CLASS-2015 INDUCTEES


3RD CLASS-2014 INDUCTEES


2ND CLASS-2013 INDUCTEES


1ST CLASS-2012 INDUCTEES


INDUCTION DINNER INFO


ABOUT THE HALL

MISSION STATEMENT


NOMINATION FORM (PDF)


NOMINATION INFO & FAQS


BOARD OF DIRECTORS


SPONSORSHIP OPPORTUNITIES


VSHOF on FACEBOOK


CONTACT US


HOME PAGE


RELATED LINKS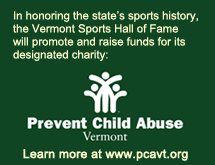 VERMONT SPORTS HALL OF FAME
Martin St. Louis
University of Vermont
Ice Hockey
Inducted 2018
A three-time first team All-American at the University of Vermont and its all-time leading scorer, Martin St. Louis went on to an outstanding professional career as a perennial NHL All-Star, the league's MVP in 2003-04, and as a World Champion and an Olympian.
At UVM, St. Louis helped lead the Catamounts to back-to-back trips to the NCAA Tournament and the school's first appearance in the Frozen Four. Also a three-time Hobey Baker Award finalist, he was named to the ECAC All-Decade Team for the 1990s and was selected to UVM's All-Time Team, 'The ECAC Years' in 2006. An electrifying skater, he finished with a school-record 267 career points, second all-time in ECAC history, as well as tops in assists, 176, and is third in goals with 91. He and linemate Eric Perrin hold the school single season record for points, each with 85, tying for sixth in goals, 29 and a record 56 assists as juniors in 1995-96. That year he scored a school-record 9 game winning goals.
Undrafted by the NHL after graduation, he began his pro career with Cleveland of the IHL in 1997-98 before moving to the Calgary organization. He reached the NHL with the Flames in 1998-99 and after being released by Calgary after the 1999-2000 season, he signed with the Tampa Bay Lightning on July 31, 2000 to continue a 16-year NHL career where he played over 1,000 career games tallying 391 career goals and 1033 points, while skating in six All-Star Games. He is only the sixth undrafted player in NHL history to score over 1000 career points.
In his third season with the Lightning, St. Louis became a NHL All-Star for the first time in 2002-03. The next season he had one of the top seasons in NHL history in 2003-04 leading Tampa Bay to the 2004 Stanley Cup. He led the NHL in scoring and earned the Hart Trophy as the league's Most Valuable Player, the first former NCAA player to win the NHL MVP. In 2009-10 he won the first of three Lady Byng Memorial Trophies, given to the most gentlemanly player in the NHL. He finished his career with the New York Rangers in 2015.
In the fall of 2004 he led Canada to the World Cup of Hockey title and in 2006 and 2014, he skated for his native country in the Winter Olympics, earning a Gold Medal in 2014 in Sochi. He also played for Canada in the 2008 and 2009 World Championships, winning silver medals both times.He is a member of the UVM Athletic Hall of Fame and his number (8) was retired by the school in 2016 and his number 26 was retired by Tampa Bay in 2017. He is the first Catamounts player and first for the Lightning to have his number retired.