THE INDUCTEES

6TH CLASS-2018 INDUCTEES


5TH CLASS-2017 INDUCTEES


4TH CLASS-2015 INDUCTEES


3RD CLASS-2014 INDUCTEES


2ND CLASS-2013 INDUCTEES


1ST CLASS-2012 INDUCTEES


INDUCTION DINNER INFO


ABOUT THE HALL

MISSION STATEMENT


NOMINATION FORM (PDF)


NOMINATION INFO & FAQS


BOARD OF DIRECTORS


SPONSORSHIP OPPORTUNITIES


VSHOF on FACEBOOK


CONTACT US


HOME PAGE


RELATED LINKS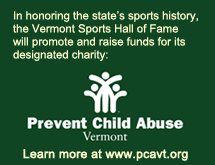 VERMONT SPORTS HALL OF FAME
Tim Caldwell
Putney
Nordic skiing
Inducted 2018
An outstanding and versatile Nordic skier, Putney's Tim Caldwell was the first American to compete in four Winter Olympics and was a U.S. national Nordic champion several times at every event.
The son of VSHOF inductee and legendary Nordic coach John Caldwell, Tim first raced at the Putney School in high school during a time when the Brattleboro area produced many of the top U.S. Nordic racers including fellow Olympians Bill Koch, Martha Rockwell, Bob Gray and Stan Dunklee.
He skied in his first Olympics at Sapparo in 1972 at the age of 17 in the 15K and the 4 X 10 K relay. Four years later at Innsbruck he raced in the 15K, 30K and 50K as well as the relay event. He raced at home in 1980 at Lake Placid in the 15K and relay, and competed in the same two events at age 30 in Sarajevo in 1984.
In 1973 he finished second in the prestigious Holmenkollen Junior 15K and captured the Finlandia Trophy as the outstanding U.S. Nordic skier.
Caldwell also raced on the World Cup circuit for many years with his best finish was second in a 15K event in the U.S. in 1983. He also came in 15th in the 50K event at the 1982 FIS Nordic World Championships in Oslo, Norway. He also won seven individual U.S. national titles including one at each of the four distances from 15 to 50K, as well as several relay titles.
Caldwell was named to the Vermont Ski Museum Hall of Fame in 2005, and the Caldwell family received the 12th annual Spirit of Skiing Award from the New England Nordic Skiing Association in November, 2017. The family encompasses now three generations of Olympians. His son Patrick will ski for the U.S. in the 2018 Winter Olympics in South Korea.