THE INDUCTEES

5TH CLASS-2017 INDUCTEES


4TH CLASS-2015 INDUCTEES


3RD CLASS-2014 INDUCTEES


2ND CLASS-2013 INDUCTEES


1ST CLASS-2012 INDUCTEES


NOMINATION FORM (PDF)


NOMINATION INFO & FAQS


INDUCTION DINNER INFO


ABOUT THE HALL

MISSION STATEMENT


BOARD OF DIRECTORS


SPONSORSHIP OPPORTUNITIES


VSHOF on FACEBOOK


RELATED LINKS


CONTACT US


HOME PAGE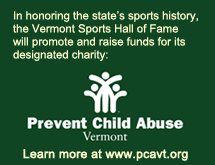 VERMONT SPORTS HALL OF FAME
Ernie Farrar
Newport/St. Albans
David Hakins Award Inductee (Vermont Golden Gloves)
Inducted 2015
Ernie Farrar, the longtime director of the Vermont Golden Gloves and a leader in amateur boxing in the state and the region, is the 2015 Vermont Sports Hall of Fame David Hakins Memorial Award Inductee. The award honors a business leader or an organization for exceptional promotion and development of sports, athletics and recreation in the state of Vermont. It is named in memory of the late David Hakins, a businessman who was a founding member of the Vermont Sports Hall of Fame and the inspirational first president of its board of directors.
A native of Newport who resides in St. Albans, Farrar is best known as the long-time talk show host on Colchester radio station WVMT, where he currently is a co-host on Charlie + Ernie + Lisa in the Morning. However, for the past four decades, Farrar has been instrumental in the continued success of the Vermont Golden Gloves, an amateur boxing tournament, for close to four decades.
Farrar began his efforts to revive the dormant event shortly after the 1976 Montreal Olympics, when the U.S. Olympic Boxing Team trained in Burlington, by borrowing equipment and staging fights at the Burlington Boys Club. As the tournament grew, Farrar eventually moved the highly popular and successful fight nights to their current location in Burlington's Memorial Auditorium. The Vermont Golden Gloves features fighters from Vermont, Maine and New Hampshire. Many of the Vermont champions have gone on to regional and national Golden Gloves success. Farrar also has promoted boxing at the regional level with USA Boxing New England.
With former Golden Glovers boxer Alan Rubel, Farrar also co-authored a book on Vermont boxing history, "Gloves: The Stories of Vermont's Greatest Boxers, Trainers and Personalities."