THE INDUCTEES

5TH CLASS-2017 INDUCTEES


4TH CLASS-2015 INDUCTEES


3RD CLASS-2014 INDUCTEES


2ND CLASS-2013 INDUCTEES


1ST CLASS-2012 INDUCTEES


NOMINATION FORM (PDF)


NOMINATION INFO & FAQS


INDUCTION DINNER INFO


ABOUT THE HALL

MISSION STATEMENT


BOARD OF DIRECTORS


SPONSORSHIP OPPORTUNITIES


VSHOF on FACEBOOK


RELATED LINKS


CONTACT US


HOME PAGE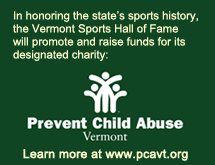 VERMONT SPORTS HALL OF FAME
David Hakins
The Vermont Sports Hall of Fame is saddened by the loss of David Hakins of South Burlington, who passed away on July 23, 2013 after a five-month battle with pancreatic cancer.
Dave was a founding father of the Vermont Sports Hall of Fame heading up the initial launch committee in 2010 as well as the first chair of the organization's board of directors. He inspired and guided the development of Vermont's first statewide Sports Hall of Fame and presided over the induction of the inaugural class of 13 honorees in November 2012.
"Sitting down and trying to find all the words that embody what Dave Hakins meant to the Vermont Sports Hall of fame is a difficult task," said Justin Martin, who succeeded Hakins as the Hall's chair in the spring.
"Dave took the idea for the Vermont Sports Hall of Fame from Alan Rubel and made the dream into a reality. From Day One, Dave was the foundation for the hall, leading meetings and putting the people in place to make the vision of a Vermont Sports Hall of Fame and turning that vision into a reality," Martin said.
"He was a man that knew how to make things happened and every person who is inducted into the Hall has Dave to thank for it," Martin said. "We at the Vermont Sports Hall of Fame will always remember Dave and we will work to continue to carry the torch he lit. Thank you, Dave. You will be missed by us all."
A native of Rutland and a former sports journalist and editor for the Rutland Herald, Hakins most recently was the publisher of Vermont Life magazine. During his career, he has worked for a number of companies, including Pfizer, General Foods, JC Penney, Schlumberger and Chase Manhattan Bank.
During his time at Chase, Hakins became involved in sports sponsorship hospitality at a number of major sports events nationally and internationally. He formed his own company, Hakins Meetings and Incentives in Wyckoff, N.J.
He and his wife, Jane, returned to Vermont in 2005, where he served as director of sales and promotion for the Vermont Department of Tourism and Marketing, as executive director and COO of the Vermont Convention Bureau and as director of business development for the Essex Resort & Spa. He was named publisher and CEO of Vermont Life in 2011 a position he served until his passing on July 23, 2013.
-by Ted Ryan, Vermont Sports Hall of Fame
Below are other appreciations of Dave from the internet (click on title):
Remembering David Hakins, Rutland Herald (July 31, 2013)
David Hakins, Burlington Free Press obituary (July 25, 2013)
Dave Hakins, Bergen 'Vermonter', Bergen Record/NorthJersey.com (July 25, 2013)
Life After Chase: David Hakins (Chase Alumni Association)