THE INDUCTEES

5TH CLASS-2017 INDUCTEES


4TH CLASS-2015 INDUCTEES


3RD CLASS-2014 INDUCTEES


2ND CLASS-2013 INDUCTEES


1ST CLASS-2012 INDUCTEES


NOMINATION FORM (PDF)


NOMINATION INFO & FAQS


INDUCTION DINNER INFO


ABOUT THE HALL

MISSION STATEMENT


BOARD OF DIRECTORS


SPONSORSHIP OPPORTUNITIES


VSHOF on FACEBOOK


RELATED LINKS


CONTACT US


HOME PAGE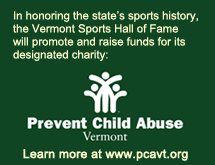 VERMONT SPORTS HALL OF FAME
Raymond Pecor Jr.
Burlington
David Hakins Award
Inducted 2013
The owner of Vermont's lone affiliated minor league baseball team since 1994, Raymond Pecor Jr. is the inaugural David Hakins Award inductee into the Vermont Sports Hall of Fame.
The Hakins Award recognizes a business leader or an organization for exceptional promotion and development of sports, athletics and recreation in the state of Vermont. It is named in memory of the late David Hakins, a businessman who was a founding member of the VSHOF and the inspirational first president of its board of directors. Click HERE for appreciations of Dave's life.
The longtime owner of the Lake Champlain Transportation Company and several other successful businesses, Pecor returned minor league baseball to the Green Mountain State after a five-year absence by purchasing a New York Penn League (Class A, short season) franchise prior to the 1994 season. First affiliated with the former Montreal Expos, the Vermont Expos opened that year with record crowds at Centennial Field and went on to capture the league championship in 1996. Now the Vermont Lake Monsters, and an Oakland Athletics affiliate since 2011, the team in 2013 celebrated its 20th campaign and saw its two-millionth fan walk through the turnstiles.
In addition to rejuvenating professional baseball in Vermont, Pecor has personally spearheaded the $2 million-plus renovation of historic Centennial Field, which hosted its first baseball game in 1906. Since 2012, his funding has given the ballpark new and improved lights, new dugouts, a greatly improved playing surface, the state's first video scoreboard and new seating while reinforcing the concrete of the grandstand that was built in 1922. All the improvements have modernized the ballpark for players and fans while keeping its historic feel.
Pecor previously owned and operated a Triple-A International League franchise in Ottawa, Ontario and is currently a partner of the Lehigh Valley (Pa.) Iron Pigs, also in the International League.
For more than four decades, Pecor also has made tremendous contributions in the areas of transportation, entertainment and downtown revitalization that have been critical to the economic development of the state. Never seeking the spotlight, Pecor and his family quietly have been longtime benefactors to many community causes throughout the Green Mountain State. He also has anonymously assisted fledgling businesses and other organizations in need of advice or financial support in the area. Pecor to this day serves on the boards of many local businesses, educational and non-profit organizations boards as well.
A native of Burlington and a graduate of Burlington High School, Pecor also attended the University of Vermont and was awarded a Honorary Doctor of Laws Degree in May of 2013. A longtime member of UVM's Board of Trustees and Alumni Council, Pecor also was the recipient of the school's Alumni Achievement Award in 1997, highlighting his many honors.